Total-Zymes® Plus Probiotics
The ultimate digestive support in one convenient chew
What is Total-Zymes® Plus Probiotics?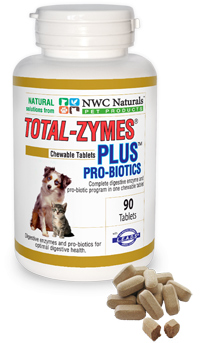 Now you can give your dog all of the benefits from Total-Zymes® and Total-Biotics® in a single, chewable treat.
Total-Zymes® Plus Probiotics provides the most complete and most powerful digestive support for dogs. It contains 14 different vegetarian enzymes to help your dog absorb the most nutrients possible from the foods he eats. And each tasty chew contains over 500 million CFUs of live, beneficial bacteria to regulate his intestinal health and strengthen his immune system.
Giving your dog a daily Total-Zymes® Plus helps:
Boost your dog's immune system
Improve coat condition
Reduce bloating and gas
Regulate bowel movements
Increase energy levels
Lessen hairballs
Speed up healing
Reduce shedding
Regain healthy weight level
Improve your dog's digestion
Calm allergies and skin issues
Control your dog's yeast overgrowth
Remove toxins from your dog's body
Promote proper elimination
Improve your dog's ability to manufacture vital B vitamins
Lower joint inflammation, stiffness or pain
Is Total-Zymes® Plus right for my dog?
Is Total-Zymes® Plus right for my dog? Total-Zymes® Plus is safe for all dog breeds needing digestive support and has no known side effects. This formula is safe for dogs of all ages, pregnant dogs, and nursing dogs. As with any supplement, we suggest discussing the dosage with your veterinarian first.
Guaranteed safe, natural and effective:
Safe for all breeds and sizes
Safe to use with other cancer treatments
Made with 100% USDA Certified Organic materials
Manufactured in a FDA registered facility
100% non GMO
Created according to the highest pharmaceutical standards
Absolutely no binders, fillers, flow enhancers or time release agents
Have no known side-effects
100% non-toxic (no risk of overdosing)
Backed by our full satisfaction guarantee

Recommended Daily Use:
Total-Zymes® Plus comes an easy to chew tablet. One tablet of Total-Zymes® Plus treats a half cup of any pet food and can be given before or after the meal as a treat. Tablets may be easily broken in half to treat a ¼ cup of food per feeding.
Purchase Total-Zymes® Plus Probiotics Now
Total-Zymes Plus for Smaller Pets
Contains 90 tablets
$36.99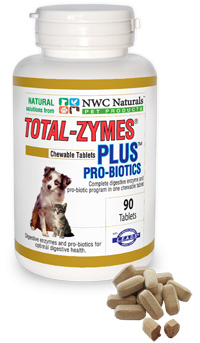 Buy 4 and SAVE

Total-Zymes Plus Pack 4 for the price of 3!
$110.97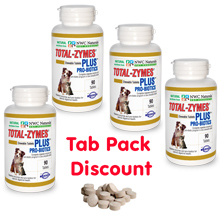 Total-Zymes Plus for Larger Pets
Contains 100 tablets
$50.99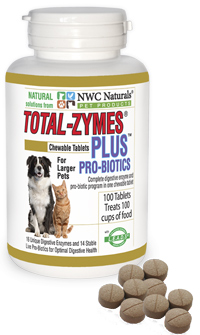 Buy 4 and SAVE
Special Price!
$152.97