Pet-Enzymes Plus™ Joint Relief
More powerful than glucosamine and chondroitin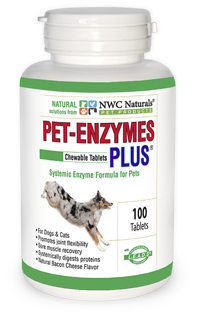 Pet-Enzymes Plus™ supports your pet's joint and muscle health by defending cells against free radical damage. And that's important because excessive free radicals damage cells, causing chronic inflammation, pain, degenerative disease and more.
These natural bacon and cheese-flavored chews are easy for your pet to swallow. And works better than glucosamine and chondroitin sulfate products because this formula strengthens cells on a systemic (whole body system) level. This provides better overall results against stiffness, joint problems, and pet allergies.
This potent blend uses the power of enzymes with super antioxidants to prevent oxidation. As a result, Pet-Enzymes Plus™:
Promotes joint flexibility
Helps reduce joint inflammation
Aids in cartilage repair
Provides allergy support
Pet-Enzymes Plus™ helps reduce pain and increase mobility
This unique formula contains 14 pain fighting ingredients that work together to provide overall body support for fast, noticeable relief.
Breaks down protein deposits
Studies show a major cause of occasional joint/muscle pain and inflammation is from partially digested protein accumulating in joints and tissues. Pet-Enzymes Plus™ includes special proteolytic enzymes to release food's important peptides and amino acids your pet needs to nourish his body. And the enzymes break down protein fragments before they can cause an inflammatory or allergic response.
Supports the entire body
The formula's special blend of plant-based enzymes is designed to support your pet's entire body. By using a whole-body approach, it effectively relieves inflammation, which encourages healing. Pet-Enzymes Plus™ further supports your pet by:
Boosting immune system
Improving digestion
Promoting proper elimination
Help remove toxins from the body
Soothe joint difficulties
Reduce organic allergens, skin problems, and coat issues
Delivers concentrated antioxidants
The antioxidant blend also contains specific nutrients known for providing overall health support and for containing anti-inflammatory properties:
Turmeric—improves mobility and help support flexible connective tissue
Bromelain—reduces inflammation and decreases swelling
Boswellia—used for hundreds of years in treating arthritis and reducing pain and inflammation of joints
MSM (Methylsulfonylmethane)—one of the safest and best treatments for significantly reducing joint degeneration and inflammation.
Pet-Enzymes Plus™ contains NWC's exclusive Live Enzyme Activated Delivery System® (L.E.A.D.S.®). This guarantees assimilation and utilization of nutrients at the cellular level. L.E.A.D.S.® is a proprietary system of select enzymes, botanical and whole-food products, and is formulated to match the specific needs of each NWC product.

Product ingredients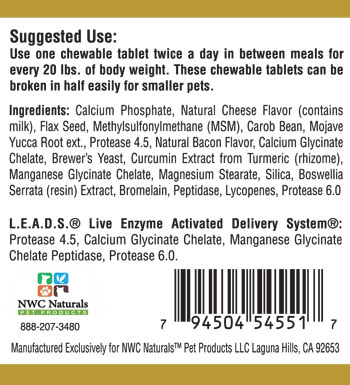 Is Pet-Enzymes Plus™ right for my dog?
Pet-Enzymes Plus™ is guaranteed
Non-GMO
Made from all natural ingredients
Certified by NSF International
Meets all GMP dietary supplement requirements
Tested by third party lab for purity standards
Made in a USA facility
No known side effects
100% vegetarian
Pet-Enzymes Plus™ is allergen-free
No corn
No chemicals
No gluten
No soy
No dairy
No yeast
No wheat
No eggs
No preservatives
No artificial flavorings or coloring
Recommended Daily Use:
Direction for use: One chewable tablet twice a day in-between meals for every 20 lbs. of body weight. Can be broken in half easily for smaller pets.
Pet-Enzymes Plus ™ Systemic enzyme chewables are to be given in-between meals to work on the proteins in the body and the free radical damage that may be causing the joint problems.
Purchase Pet-Enzymes Plus™ Joint Relief Now
Pet-Enzymes Plus Joint Relief™
Contains: 100 chewable tablets
$35.99