K9 Medicinals® Turmeric Joint Health
Turmeric for Pets, 60 Tablets
Help your fur-babies with hip and joint issues feel better naturally with Complete Turmeric Joint Health Dog & Cat Supplement. This powerful formula combines joint-supporting glucosamine, chondroitin, hyaluronic acid and MSM with anti-inflammatory turmeric to get your buddies up and running without pain or stiffness. The yummy bacon flavored treats works for both cats and dogs. It can also be crumbled into your pet's food.  Great for older pets and those prone to hip and joint disease.  This formula will have them feeling better in a jiffy.
Key Benefits
Highly concentrated triple strength formula delivers powerful joint support.
Made with glucosamine and chondroitin to promote cartilage growth and joint lubrication.
MSM and turmeric help reduce inflammation for less pain and friction.
Made in the USA.
Precautions: Not for dogs or cats in heat or pregnant.
Suggested use:
60 Tablets per Container
Pet Weight and Number of Tablets
10lbs & Under: 1/2 Tablet Daily
11 to 30 lbs.: 1 Tablet Daily
31 to 65 lbs.: 1 1/2 Tablets Daily
65 lbs. & Over: 2 Tablets Daily
Product Ingredients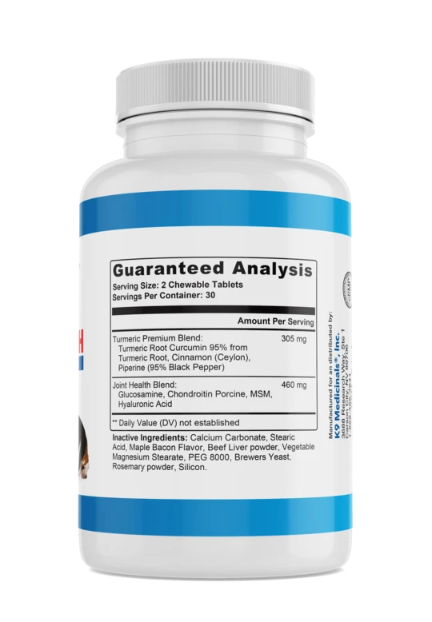 Purchase K9 Medicinals® Turmeric Joint Health
K9 Medicinals® Turmeric Joint Health
Turmeric for Pets – 60 Tablets
$28.95