Naturally maintain the high energy level your busy day demands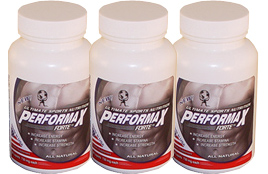 If you're like many of us, you're on the go from the moment you wake up until bedtime. But it's often difficult to maintain the energy levels needed to keep up with the stress and demands of modern life.
Performax Forte is an advanced herbal and mushroom supplement designed to increase your energy and performance levels all day long. So you can move through your busy day without the afternoon or early evening lulls. Without relying on stimulants like caffeine.
This proprietary formula contains the finest blend of rhodiola rosea and cordyceps sinensis, with specially chelated magnesium and chromium for increased potency.
Guaranteed safe, natural and effective
To maintain purity and potency, the medicinal mushrooms used in this formula are grown in a highly-regulated organic facility here in the U.S. Other supplements may contain medicinal mushrooms, but most are from overseas and likely to contain toxins and other dangerous pollutants.
Performax Forte is guaranteed pure and safe:
Manufactured in a FDA registered facility
100% non GMO
Caffeine-free
Made with 100% USDA Certified Organic materials
100% of the ingredients are from the U.S.
Made from Certified Kosher ingredients
Created according to the highest pharmaceutical standards
Absolutely no binders, fillers, flow enhancers or time release agents
Have no known side-effects
100% non-toxic (no risk of overdosing)
Backed by our full satisfaction guarantee
Purchase Performax Forte™ Now
Performax Forte™
Contains: 90 vegetarian, time release caplets – 750mg each
$25.95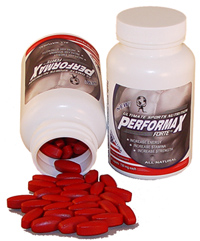 Performax Forte™
Buy 2 and get the 3rd one FREE.
$51.90