Pet Success Stories Continued…
Please read some of our pet success stories and pet owner testimonials. If you would like to share your story, please contact us.
Tripawds members share their thoughts on the use of K9 Immunity for fighting cancer in dogs.
"He survived three times longer…""I have been buying your K9 Immunity products for several months and I am convinced they added immeasurably to my dog's health and well being. Unfortunately, he passed away shortly after my last order for the (K9) Transfer Factor. But, with the K9 Immunity and Transfer Factor he survived three times longer with the cancer than any Vet had predicted and I am so happy that we had him through the Christmas holidays. Thank you SO much for helping us with our dog." – M. Holt, New Jersey
"I have seen her energy level increase dramatically…"
"Samantha has been on K9 Immunity for 9 months. During that time I have seen her energy level increase dramatically and that Terrier zest for life return and most importantly – no tumors. Friends have commented on her new found energy and coat color. The color in her coat is more pronounced, she is once again tri color, not a faded loss of coat color. It is amazing to me to see the difference in Sam and have her return to my energetic companion. My vets have seen the change but seem to ignore that the only change in Sam's life has been K9 Immunity.I tell all my pet friends about your products and all of them can see the wonderfully positive results in Samantha. Please continue your research for all the pets who desperately need help in fighting this dreadful disease. A huge THANKS!" – R.W.
"He's back to his routine of walking with me at the park every day…"
"Casey was diagnosed with incurable liver disease in August of 2009. He was given only 2-3 months to live. Casey didn't have any energy, his fur was discolored and dull, and he just didn't look well. He just turned 14 in December of 2009. My daughter, Amy, talked to our veterinarian, and she gave her the K9 Medicinals website. We ordered the product on November 4. Casey takes K9 Transfer Factor once a day and K9 Immunity five per day.We saw positive results within a month. Casey's fur looks so healthy; it is no longer discolored or dull. His energy level has improved and he is back to his daily routine of walking with me at the park every day. We have walked the trail in the park ever since he was a puppy, and it is good to see him playing and running with all of his friends again. We took him to the vet to get his liver enzymes checked again and they have gone down significantly and Dr. Lusk is surprised and pleased with his progress. Thank you K9 Medicinals! We will definitely tell others in similar situations about the wonderful product. Casey thanks you too!" – Rick and Leena K.
"Those pills have given her relief and comfort…"
"We got the medicine yesterday…thank you again for such diligence. I am convinced that Winston would be suffering and maybe not alive, if not for the K9 Immunity and Transfer Factor. When I first read about it, I was online trying to figure out how to reduce the edema that caused her paw to swell to 3 time its normal size. When I called multiple vets in town, they all said, 'yeah, she's got osteosarcoma. She's going to die, so you might want to consider putting her down.'I began giving her the medicine two days after I first read about it and by the following day, the swelling in her paw had gone down considerably. By the end of the first week, it was back to normal. I have no expectation that the tumor will disappear, but I know for certain these pills have given her relief and comfort when nobody else offered any. Thank you again for hard work and kindness. I'm certain Winston can feel it as well." –
D. Gomez, Tennessee
"There is no doubt that these products really work…"
"I really wanted to say how glad I was to have found your products. There seems to be so much emphasis here in the UK on treating cancer with methods such as chemotherapy that unless you go looking or feel open-minded to alternative treatment your pet doesn't have the best chance he or she can get. Oshi was diagnosed with lymphoma nearly a year and a half ago now and was only given a couple of months. He's still with us and the photo of him in the snow was taken on our holiday to Wales at Christmas where he was charging up and down the mountains. There is no doubt that these products really work and it's such a shame that more vets over here aren't willing to see this. I really appreciate all your help and kindness and will keep you updated as to how he's doing. Thank you again." – Catherine
"Within a week of using K9 Immunity we began to see changes…"
"Our precious Mango, a 5 year old Golden Retriever was diagnosed with a stage III Mast Cell Tumor on her tongue. A very fast spreading tumor that went from the size of a pea to the size of a quarter within a week. The tumor was surgically removed and since radiation and chemo therapy were not options, we felt pretty helpless. Searching the internet I found K9 Immunity. I researched and read all I could about the disease. It took about a month before I settled on trying the K9 Immunity products. It was better than doing nothing.Within the week of using K9 Immunity we began to see changes in our girl, her eyes were clearer, drooling less, appetite increased and firmer stools. She gained back much of the weight she had lost to the cancer. She was starting to act more like her old self. What K9 immunity gave us, was HOPE. Let me tell you that life with HOPE is so much better than life without it. My greatest regret was that I waited a month wandering through the internet in doubt, worry and hopelessness. I wish I would have purchased the products sooner. I don't fully understand how it all works, but we are very happy with the results.We aren't skipping through life thinking that she's totally cured but we like what we see and will keep using K9 Immunity and (K9) Transfer Factor. I was skeptical at first too. Research quickly, don't wait like me. It's the real deal, don't take my word for it. Try it for yourself, just try it, you'll see for yourself.Diet change: 80% ground turkey/20% dry kibbleSupplements: Omega 3, CQ10, Vits with DHA, K9 Immunitiy + (K9) Transfer Factor, Calcium1/2 Benedryl each meal, 1/2 cimetidine (acid heartburn relief) every other day.No radiation (not on tongue)/No steroids (highly sensitive/allergic) /No chemo- Chip P. , CA
"To my vet's surprise and mine, he became himself again…"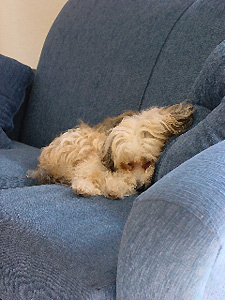 "My dog Chester became strangely ill on August 17th, 2005. He stopped eating, now for Chester not to eat was a problem, but I thought maybe an upset stomach, maybe he wants my food, maybe, and then he collapsed. I rushed him to the animal hospital and was not ever in a million years prepared to hear what I heard, and to this day it still resonates in my head. 'Your dog has advanced liver cancer that has also entered his lymph nodes. He has two weeks to live, maybe less.' I honestly thought they were joking, two weeks, but he is only 9 years old, he was fine just three days ago. You're wrong I thought, you made a mistake.They gave me medicine to ease any pain he may be in and sent me home with my two weeks. Wait a minute I thought, this is an animal hospital on a Sunday, not my regular vet. My vet would tell me this hospital is crazy, or the doctor does not know how to read the tests. Yeah that's what will happen. Monday came and that's not what happened, he had cancer, and in the liver and lymph nodes as the hospital stated. Two weeks maybe at the most. At this point I had a choice, let him die or become proactive. So I went web hunting, typed in liver cancer and dogs and lymph nodes (Up until this point I had no idea what a lymph node was) Things did not look good, bleak actually, and then at 3 AM in the morning I typed in 'help my dog has cancer' and it lead me to a bunch of sites that people talk about their dogs and cancer.A bunch of people talked about something called K9 Immunity and how it helped with cancer. Now I was desperate and skeptical at the same time, so I went to the web site to check this product out. After reading the site and what people said about what it does, and the honest fact that I would do anything to make him better, I ordered K9 Immunity. Next day delivery of course. That day gave me four more years with Chester. To my vet's surprise and mine he became himself again, he played again, he ate and ate and ate again. I did change his diet that was more cancer unfriendly, had his blood work done every 4 months and my vet added URSO to help his liver do its job better. Chester lived a full and happy life up until the age of 13.2 years. I was not ready for "two weeks", but never was happier to be given 4 years.Thank you for the time you gave me with him, it was a gift I can never repay." –
Bernard
"We just celebrated 3 months since her diagnosis…"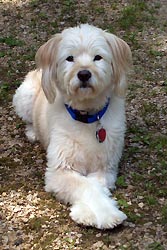 "I just want to thank you for yet another happy day with Ellie, my goldendoodle! Ellie had an emergency spleenectomy in early March, 2009 and was diagnosed with splenic hemangiosarcoma. One vet told me she could be gone in as little as 6 weeks. I knew there had to be a way to increase the number of our days together! In addition to chemo, I scoured the internet and crafted a cancer care plan for Ellie that includes
K9 Immunity
,
K9 Transfer Factor
and
K9 Omega
.We just celebrated 3 months since her diagnosis and we expect more celebrations ahead. Ellie's appetite is great, her energy level is high and her liver function numbers have stabilized. I firmly believe the K9Immunity products have made a wonderful impact in helping Ellie heal quickly from surgery, recover quickly from chemo and have increased the quality of her life in general. Thanks for your help and encouragement as we embrace every good day!" –
Sarah B., WI
"She is 13 yrs old and runs around still like a puppy…"
"My dog Snooker was brought to the vet after I had come home to find her laying on the ground she was unable to walk, after lots of test and the vet telling us that she has no chance. I would not accept that I was determined to save my little girl, so I researched on line and thank God I found K9 Immunity I ordered it right away. Then she came home after lots of tests and they scoped her intestine to send off to Tennessee, meanwhile I started the K9 Immunity and she had a follow-up to be scoped again this time to go to Miami to be tested they could not find out what was wrong it came back fine. She is 13 yrs old and runs around still like a puppy the vet told me whatever your doing keep doing it she seems to be fine. He was definitely impressed. I told him K9 Immunity and lots of praying. Thanks again for helping my baby." –
Tamie B., Florida
"19 months plus with cancer and still going Strong…"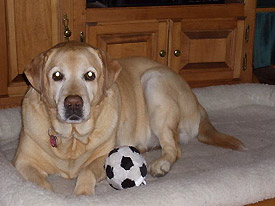 We just wanted to let you know that our yellow Lab, Hannah, is still going strong after 11 months.If you look closely in the picture, you can see the tumor on her left rear leg. They wanted to do chemotherapy and radiation, but we picked quality of life and researched the internet and found you. We changed her diet and added K9Immunity, K9Transfer Factor and K9Omega Fish Oil and the tumor has not grown. Some days she still acts like a pup!Susan and I want to thank you so much from the bottom of our hearts for giving Hannah a new lease on life. Thank you again." –
Rick, Susan and Hannah
UPDATE 7/13/09: Hannah, 19 months plus with cancer and going Strong. Our vet said he has only seen one other dog last so long.
"The results have been almost miraculous…"
"I am so happy to write this testimonial to tell you how well my 13 year old bull mastiff, Tessie, is doing. In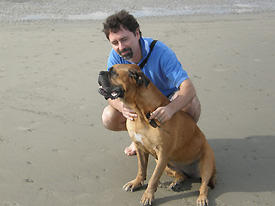 August of this year, Tessie developed mast cells tumors – one on her side and one on her jowl. The veterinarian operated and removed both with a wide margin – they were both grade 2 (our of 4) so the prognosis was very good.Within 2 months, however, Tessie began limping so badly on her left front leg that I was afraid she might have bone cancer. Sure enough, she was diagnosed with osteosarcoma in her leg. They said the only option was to amputate her leg. We would not put her through this, so the vet gave us tramadol and said all we could do was to keep her free from pain. Tessie quickly went downhill, and would not even stand to eat. We fed her with a spoon, although she ate very little. To use the bathroom she walked on the front side of her paw and just sort of drug it along – it was heartbreaking. We knew we had to put her to sleep within a matter of days, and called the vet to make arrangements.It was at this time that I spent a lot of time on the internet researching canine cancer, and came upon your website to read about your K9 Immunity, (K9) Transfer Factor, and (K9) Omega 3 fish oils. We had a shipment overnighted to us, and immediately began giving Tessie the regimen – both morning and evening. We wrap the pills in a piece of ham or turkey, and she wolfs them down. Well, within 2 days she was up walking again. She now has been taking the full dosage for almost 3 weeks, and I will say the results have been almost miraculous.We are also feeding her very high protein and for the most part, organic food (with no grains) and sardines (for omega 3) on top every evening. She is, of course, an old dog, but now she is barely limping and getting to her feet (from laying down) so quickly it is unbelievable. I feel sure she still has the cancer, because her left leg is still not as strong as it once was. But I do not believe she is in pain, although I am still giving her 1/2 tramadol AM and PM. She is 120 pounds, so you can see that this is a very small dose. Each day we have with her feeling so great is a tremendous blessing. I want to thank you from the bottom of my heart!." –
Clare, GA
"Gave me hope when the future looked bleak…"
"Our eight year old Sheltie, Shadow, was diagnosed with cancer last August ( 2007). His was a nasal cancer for which the veterinarian gave us only the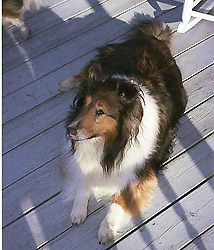 chemo and radiation options. Not being willing to subject him to a painful process in a distant city, for which there was little guarantee of cure, I turned to the internet and found your website. It was like finding an oasis in the desert. I ordered the K9 Immunity, (k9) Transfer Factor and (K9) Omega and kept him on it through the fall and winter.In December, we found an oncologist who said he felt he could operate on Shadow and remove the cancer. We agreed to the operation, and Shadow came home on Christmas Eve, making this a happy Christmas for all of us. So far Shadow is progressing well, has his old spark back, and hopefully, will be with us for a few more years.I just wanted to tell you that the medicine and testimonials of your customers gave me hope when the future looked bleak for Shadow. May K9Medicinals offer the same help to many others." –
C. Phillips, NC
"He is fetching sticks again…"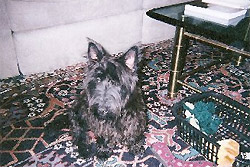 "I can't thank you enough for what K9 Immunity has done for Fred, my 12 year old Schnauzer/Terrier mix. The vet had prescribed Remydyl, which did not help his pronounced limp. After x-rays, the vet said Fred had cancer and arthritis and Remydyl and amputation were my only options.I found the K9Medicinals web site and ordered K9 Immunity and (K9) Transfer Factor, not expecting much. I quickly saw improvement. Last week I was on vacation and my son diligently gave Fred his medication. When I came home, I saw a dramatic improvement in Fred. He puts full weight on the affected leg. His energy is improved. Yesterday, he ran through the woods and several to blocks to a stream. He is fetching sticks again.Everyday I have with Fred is a gift. His life is in God's hands and we are blessed to have this product helping to enjoy his life." –
Marlene P., NJ
"He is still active, happy and in good spirits…"
"'Doc' our seven year old Basset Hound, was diagnosed with Lymphoma in January, 2007. His prognosis was four months, at the most. A friend told us about the wonderful success their family had with the K9 Medicinals products. We decided to give them a try.Doc has been taking K9 Immunity and K9 Transfer Factor for eleven months now. He is still active, happy and in good spirits. His lymph nodes are only slightly enlarged. The folks at K9 Medicinals provide wonderful customer service and love dogs! These products are, literally, a lifesaver!" – D. Keith and N. Zufelt, NV
"Thanks to you…for all the comfort and hope…"
"I wanted to let you know that we lost our Skippy last Friday. He died in his sleep after a happy day with me. He did NOT die of cancer. There is no doubt in my mind that the reason Skippy was with us over one year is because of K9 Immunity.My thanks for helping us keep Skippy longer than had been predicted by the 'experts.' And, thanks to you and your organization for all the comfort and hope. – P.J.
"The vet says he should not even be alive…"
"Miracle Milo: We adopted Milo, a lab Shepherd mix from a rescue group on 1/30/2006. On 9/9/2010 Milo started limping so we had him checked out by a vet. It turned out that he had osteosacroma in his left leg. Our choices were amputation and chemo which we could not afford, so we searched the internet and found K9 Immunity and (K9) Transfer Factor. We decided to try it. Our miracle boy has been taking 6 K9 Immunity and one Transfer Factor daily. We have now had him for 4 years and he is almost at his 5 month mark of surviving with cancer.The vet says he should not even be alive. He is a true miracle thanks to k9 immunity and lots of love. Milo walks on three legs but is so full of energy. He just lost half of his ear in a dog fight two days ago. We will never stop using and keep recommending K9 Immunity. As of Feb 9, 2010, Milo will be 5 months with cancer." – B.W., Oakland, CA
"Our vet has been amazed at how well Zac has been doing…"
"Our German Shepherd, Zac, developed large enlargements of his lymph nodes. We took him to our vet and he did a biopsy of one of the nodes. The report came back negative for cancer. The swelling did not go down so we took him to a different vet. This time four of the nodes were tested for cancer and all four tested positive for lymphoma. Lesson here: if your dog has lymph node enlargements be sure to get at least, if not all, of the nodes tested. We wasted two weeks or more in getting treatment started by having only one node tested.After consultation with a prominent canine oncologist our vet put Zac on a nineteen week regimen using a modified Wisconsin protocol. He will be finished the first week in February 2010. We started him on the K9 Immunity and the Transfer Factor at the beginning of the treatment. Our vet has been amazed at how well Zac has been doing.His white blood count has stayed up even after the most severe of the chemo treatments. Zac is in full remission but of course we will do the whole 19 week series. Our vet fully concurred with our use of the supplements. We will continue use of the supplements after the treatment is finished. I recommend the product." – Tom and Mike Whitlock, FL
"Junior is enjoying his life and is pain-free…"
"By the time Junior was diagnosed on August 3 (?) he had already lost 16 pounds in a relatively short period of time. That week, we put him on K9 Medicinals. Two months later when we weighed him again he had not lost any more weight. Since then he has only lost a total of 4 pounds including the weight he lost due to not eating for 3 days because of his surgery. So his weight loss has greatly slowed if not stopped.The other thing is that the vet saw his liver in person when he opened him up for surgery. He told us it's in very bad condition. When we went to get the stitches out, he asked us how Junior was doing and he was surprised to hear he's pretty much back to normal, eating well, walking in the woods, going for daily car rides, strolling around the yard, barking when someone comes to the door, going up and down the stairs, and even playful. (Yesterday he even played a little tug of war). He never was very active to begin with and of course he's slowing down with age since he's over 12 now. But he's doing pretty much everything he ever did that was normal for him. He's feisty and spoiled and demanding too! Like an old man who wants to stay on his routine.The vet said most dogs with a lot less problems than Junior has would not be doing what he is doing! Once again, all the glory to God and a huge thanks to K9 Medicinals. I am convinced he would not be doing so well if he were not taking your supplements. They are helping him so much!I know he's not cured and this won't last forever. But we are getting the extra time- and good quality time – we hoped and prayed for. Junior is enjoying his life and is pain-free as far as we can tell, which is pretty amazing considering how sick he is. Now that his spleen is OK, we have more time than 2-4 months. The timeframe for his liver cancer alone was 6-8 months and that was 3½ months ago. I guess things could go downhill fast, but as of right now he is showing no signs of even being sick. We are so, so grateful for every day with our sweet man.Anyway, I just wanted to let you know how things were going and to thank you so much for all your kindness. You will never know how much you mean to our family. You gave us hope in one of our darkest hours. I'll be ordering more K9 Immunity soon and also more Dog Immune for Clemenza. Thank you so much for everything and God bless you and your loved ones. Blessings and love." – R. Pittelli
"We noticed a huge change in her within 2 weeks…"
"Just wanted to say thanks for your great products. My dog Gracie had been limping for a couple of years. We were told by her vet she had hip displasia and the surgery would cost $5,000. It took a couple years to save the money for the surgery. We took her in May 5th of this year to have the surgery. When they took the x-rays they found out it was osteosarcoma and that her leg was fractured is several places.They said the best thing to do would be to put her down since she had already had the cancer for several years already. I decided to have her leg amputated. Went home and did tons of research and found K9 Immunity. Ordered it right away along with K9 Transfer Factor and K9 Omega. We noticed a huge change in her within two weeks.She stopped sleeping during the day and had tons of energy. She was acting like a puppy again. Gracie had normally spend most of her time sleeping and now she sleeps at night when we do and is up all day. She just finished her second round of chemo with no side effects and is doing great. The vets gave her 6-12 months to live but thanks to your products hopefully she will prove them all wrong. Here's a pic of her taken yesterday." – Tonya and Gracie
"We are so grateful to still have our fluffy boy Kenai…"
"When the vet told us that our sweet doggie Kenai had Lymphoma we were so so sad. We couldn't imagine life without our big fluffy boy. Since Kenai is 13 we decided against chemo and the steroids the vet prescribed were very hard on his body and gave him seizures. Then we decided to try the K9 Medicinal products and he went from barely moving around to getting up and playing with his sister Pickles in just a week. He really has become more active and more happy now that he is off the steroids and on the vitamins.I don't know what they put in those vitamins but there has been a noticeable difference. We are so grateful to still have our fluffy boy Kenai and I really feel that it is because of K9 Medicinals!" – Sky Rondenet, CA
"K9 Immunity have helped us to make medical history…"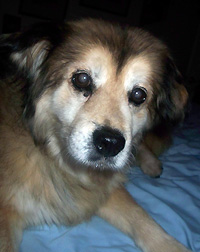 "We have always had 4 footed members of our family. We lost 2 chocolate labs at 15 to cancer. We lost a precious terrier (like the star in Hotel for Dogs) at 10 to cancer. Since that time we have found a very good hematologist/oncologist who is the one that first told us about K9 Medicinals. I think that is a true testimony to what your products can do.Mitch is an 18 year old Alaskan Snow Dog with a teenie bit of Papillion in him. He is truly a senior citizen that I would clone if I could. He looks like a puppy. Even vets will say, "How old is your puppy?" He has always been active and enjoys life. In the summer of 2008 he had cataract surgery and kept moving along. However, in the beginning of December of 2008 we noticed Mitch was sluggish. The tests showed possible lymphoma in the area of the spleen. His spleen was removed in 2003 but the slides showed lymphoma cells.We started the Madison Protocol and were told to look at K9 Medicinals. We immediately started him on K9 Medicinals. Then the doctor said it was possibly histiocytic disease. If that were the case he would soon be gone. We kept giving him the chemo but also the K9 Medicinals – the 3 that go together.Each time we would go in the ultrasound would show it still there but no larger. The doctor couldn't figure why it wouldn't get smaller but was glad it wasn't growing. Then one day the picture showed it was getting smaller. At the same time, Mitch was getting more active again. He had perked up. We know that doesn't happen on chemo so something else had to be doing that.Finally we sent the slides to two pathologists at a cancer center in our area for humans and guess what? No more lymphoma cells. Now 7 months later, we wouldn't think of ever taking him off of the medicinals. They have added spunk to his life and the doctors have said we may have medical history on our hands. The chemo typically will hold the tumors off for a period but without a transplant, they usually come back. They see no signs of the cells. We are sure the chemo was important but we know the K9 Medicinals have helped us to make the medical history with Mitch. He will stay on those for as long as we are fortunate to have him (at least 5 more years or so we hope)." –
Bebe and William K.
"Boomer made a swift recover from his surgery…"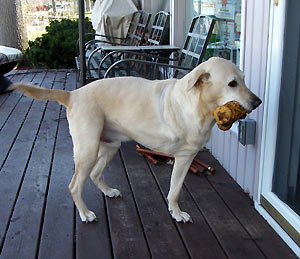 "In the fall of 2008, Boomer began limping a little on his right front leg, but everyone thought it was probably just a strain. When it didn't heal, however, he was taken to the vet in early December, and after two biopsies, it was confirmed as osteosarcoma or bone cancer…the most aggressive form. I found out about K9 Immunity the same week as Boomer's surgery to amputate the leg. Faced with a grim prognosis of potentially only a very few weeks to live, I decided to try the K9 Immunity products to see if they lived up to the claims they made.Boomer made a swift recovery from his surgery and again became the happy dog he always had been. Instead of only a few weeks with questionable quality of life, Boomer and his family enjoyed 6 more months of loving companionship before a sudden and peaceful crossing of the Rainbow Bridge. Having always been a promoter of natural forms of both human and pet health products, I would recommend the family of K9 Medicinals products if your canine family member is facing a battle with cancer or any other immune-compromising disease." –
Lois K., MI
"For those looking for some hope…do try the K9 Immunity Package…"
"I just had to let you know that I am placing my 5th order for the K9 Immunity package for large breed dogs.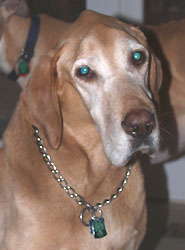 Our hound-Lab mix, Nash was diagnosed in September 2008 with Osteosarcoma. Because of various factors, none of the standard treatments were suitable for him. We were told that the cancer had broken through the bone, and had mostly likely mestatized to his lungs and other organs. He was given 2 months to live. Not willing to accept this, my husband and I did some internet research and found K9 Immunity. I'm happy to say that more than 4 months later, he is not only still weight-bearing, but still running (yes, running) around the yard, and guarding me carefully against my husband sneaking up on me. He limps, and has lost some weight, but I don't think that qualifies as dead. I can only credit K9 Immunity, and the Wellness Core dog food with this, since Nash has had no other therapy. For those looking for some hope in the face of this devastating diagnosis, do try the K9 Immunity package. It certainly won't hurt, and it just might help!"-
Leslie S.
"He is definitely beating the odds so far…"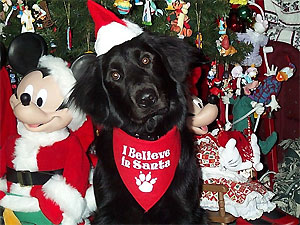 "I just wanted to send a quick note to tell you how much I appreciate how quickly you have been shipping my orders. In addition, I wanted to tell you that Baxter was diagnosed in early August with Hemangiosarcoma on his heart. He had his pericardium and right auricle removed immediately. After healing, he went through five rounds of chemotherapy and has also been on K9 Immunity. He is currently at 4-1/2 months post diagnosis, which is much better than expected and is doing amazingly well! People that see him can't even tell that anything is wrong with him! I don't know what part of his overall treatment has helped him the most, but he is definitely beating the odds so far. I cannot thank you enough. He's my best friend and I cherish every moment we are together. Thank you." –
Chad and Baxter
"Percy never had any side effects from the chemo…"
"I cannot thank you enough for your products. My mutt, Percy, was diagnosed with his second mast cell tumor in December 2007.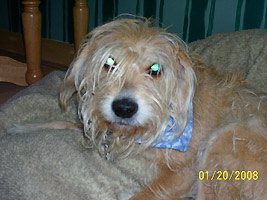 He had the tumor removed and a lymph node removed also. Chemotherapy was recommended and we started in January. I started him ( and my other two dogs) on a non-grain diet.I also started him on your regimen and we will complete chemotherapy in April. Percy has had no ill effects from the chemotherapy and seems to be tumor free. His other lymph nodes are not showing any signs of growth. People are amazed when I say my dog has cancer and is going through chemotherapy because he looks and acts just fine. Thank you so much for your advice and great products. I feel that your products have helped us along with chemotherapy. Percy is as healthy and happy as he can be and I believe that lots of love and your product have made the difference.
Update – April 2008
Just an update on Percy. We completed our last chemo treatment on Tuesday and he is doing well. Percy never had any side effects from the chemo and I think it is your medications.Thanks so much for your product and our kinds words whenever I receive an order." –
C. Nolte, OH
"She lived happily and with great vitality…"
"After being diagnosed with a large mass in her chest at almost 9 years of age, our beautiful dog Candy's prognosis was not good–3 months survival at most and little hope for a successful surgery. We started her on K9 Immunity and (K9) Transfer Factor that week. Adding steroids from the vet 6 months later. While the mass never went away, she lived happily and with great vitality until she was almost 12 years of age-about another 3 years! Thanks for making this wonderful product available." –
L. Frances, NY