A Dog Cancer diagnosis is one of the scariest things
you can face with your beloved companion.
The 'Family Pet' is just that – A cherished member of the family. A diagnosis of cancer or other serious disease for him or her can be just as devastating as for any other member of the family. The thought of discarding or replacing our loved ones when they get sick is no more of an option than it would be for any other family member.
Now there is help. K9 Medicinals® K9 Immunity™ is a supplement for use in dogs fighting cancer.
It is made from the same pharmaceutical grade immuno-modulating compounds that our human grade Immune-Assist is, but packaged specially for dogs. First developed for addressing cancer in guide dogs for the blind, now available for your dog. K-9 Immunity™ has been used in thousands of dogs with cancer , and for more than 6 years in human patients.
Talk to your vet about K-9 Immunity™, or order now and get started today!
There is Hope for Your Dog
Most dogs (75%+) respond within the first 10 days of treatment. K-9 Immunity™ Is very fast acting, and if you do not see significant results in the first couple of weeks, then chances are the dog is not going to respond to this mode of therapy.
K9 Medicinals® K9 Immunity™ Can Help
K-9 Immunity™ is a serious supplement that your vet should consider adding to the course of therapy he or she is recommending for treatment of your dog's cancer. It contains the most widely used anticancer compounds in the world: PSK, PSP and Lentinan, as well as nearly 200 other closely related heteropolysaccharide immunomodulator compounds.
What do you have to lose?
You won't know if K-9 Immunity™ will work for your dog if you never try it. We are here to help you and your dog deal with this difficult problem, so please call us at 888-366-3641.
New Study Proves the Value of Concurrent Immune Modulation Therapy on Dogs with Cancer (PDF)
K9 Medicinals® Canine Wellness Dietary Supplements
Containing #1 Clinically Studies Medicinal Mushrooms, Antioxidants and Probiotics to Support the Canine Immune System. Download our brochure for more information.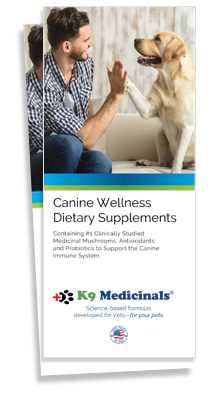 Subscribe to DogCancer.net
We'll send periodic news and product specials that will help your dog. We pledge to never sell or distribute your contact information.