Effective digestive and immune system support in one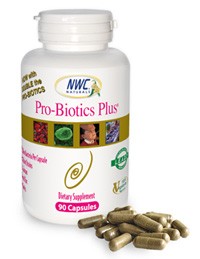 Our intestines contain both good and bad bacteria. The good bacteria keeps the bad bacteria from growing out of control, and the good guys help us digest food properly, flush out toxins and waste, and absorb nutrients from our food.
Unfortunately, every time we drink chlorinated water, coffee and alcohol, eat fatty foods, get stressed or become overly tired, we unknowingly kill the good bacteria in our bodies. Even the foods we eat to keep healthy, like meat and milk hurt us because they contain antibiotics, which further reduces the levels of good bacteria in our gut. This means every day, we unknowingly lower our bodies' ability to stay healthy.
Probiotics provide the good bacteria we need for good health. Pro-Biotics Plus® is an advanced probiotic that provides 2.5 billion CFUs of live bacteria. And the formula includes 5 immune supporting ingredients to help boost your health and protect against illness.
Pro-Biotics Plus® Benefits
Pro-Biotics Plus® combines several of nature's most effective immune boosters with pro-biotics to create a potent defense against illness. This formula helps:
Suppress Candida overgrowth
Replenish the good bacteria antibiotics kill
Reduce risk of illness
Recover from colds quickly
Support digestive function
Aid in bowel regularity
Increase immune system defenses
Soothe digestive issues such as bloating, gas, and heartburn

Product Ingredients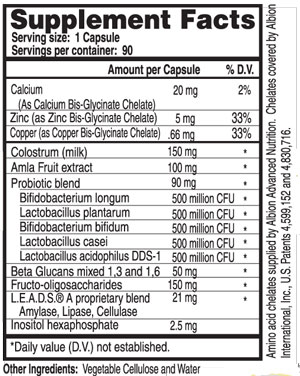 Immune-boosting formula
Pro-Biotics Plus® contains
2.4 billion live probiotics of the top 5 immune-supporting strains
Transfer factor from whole colostrums—enhances the immune system and stimulates cell growth and repair
100% daily value of Albion chelated zinc and copper—immune boosters that also stimulate healthy cell growth and tissue repair
Beta glucans 1.3 and 1.6–protects immune system
Vitamin C from Amla fruit—the most potent form of vitamin C known to protect immune system and fight free radicals
Prebiotics—enhances immune defenses and controls bad bacteria growth in the intestines
IP-6 (Inositol Hexaphosphate)—potent antioxidant for supporting immune system, kidneys, and normalizing cholesterol and lipid levels
Pro-Biotics Plus® contains NWC's exclusive Live Enzyme Activated Delivery System® (L.E.A.D.S.®). This guarantees assimilation and utilization of nutrients at the cellular level. L.E.A.D.S.® is a proprietary system of select enzymes, botanical and whole-food products, and is formulated to match the specific needs of each NWC product.
Quality guarantee:
Pro-Biotics Plus® is guaranteed
Non-GMO
Made from all natural ingredients
Certified by NSF International
Meets all GMP dietary supplement requirements
Tested by third party lab for purity standards
Made in a USA facility
No known side effects
100% vegetarian
Purchase Pro-Biotics Plus Now
Pro-Biotics Plus®
Contains: 90 capsules
$37.99