Core-HempTM Professional Oil
Core-Hemp™  could be the key to unlock your own, as well as your pet's health.
Core-Hemp™  could be the key to unlock your own, as well as your pet's health. Realizing your full health potential by supporting overall mind and body balancing. Now you and your pet can be as healthy and happy as possible. The bottle contains 500 milligrams of full spectrum PCR in a base of organic hemp oil. With Core-Hemp™ there is no psychotropic effect and it is not habit forming. Easy to take each drop contains 1.0 milligram of PCR.
Core-Hemp™ is grown, processed and bottled in the USA and is Non-GMO. 100% Hemp product, NO coconut oil or MCTs.
The bottle contains 500 milligrams of full spectrum PCR in a base of organic hemp oil.  There are many health benefits when consuming organic hemp oil for yourself as well as for your pet. It is loaded with Omega 3 & 6 fatty acids, full of naturally occurring Terpenes.
Our hemp is grown, processed, and bottled in the USA and is Non-GMO. 100% Hemp product, NO coconut oil or MCTs. Be cautious and watch out for those who do not use full spectrum hemp oil and add other ingredients that dilute down the effect of the hemp oil. Don't buy isolates or synthetics, only consume full spectrum hemp oil.
With Core-Hemp's naturally nutty flavor, just put it on a treat, give it to your pet they will thank you for it.  Or just put the drops directly in your mouth with our dropper, hold under the tongue for 60 seconds and then swallow. A great natural supplement that is recommended for daily use or when needed.
Veterinarian recommended.  Human-grade, Non-Psychoactive.  Made in USA without using harmful extraction techniques. 100% American grown hemp Grown in the USA
Blended and bottled in the USA.
Core-Hemp™ Highlights
Now for both pets and people
Supports calm mental state
Joints and Mobility Support
Wellbeing and overall health
Not an isolate, 100% natural
Non-habit forming
Super controllable serving size
Each drop is exactly 1 full milligram
100% American grown hemp
Grown in the USA
Blended and bottled in the USA
Naturally nutty flavor
More information
Core-Hemp™ full spectrum hemp oil can best be explained with two words: consistent quality. For us, it starts with using the best plants Mother Nature has to offer and partnering with the finest organic growers.Weve been building our supply chain for years, and to guarantee consistent quality, each farm gets a personal visit and our stamp of approval before we consider them a partner.
We use the whole hemp plant, the way nature intended. Our specialized high CBD hemp strains are grown in the fresh outdoors with plenty of natural sunshine, clear air, and clean water. The open air of Kentucky, Colorado, and Oregon combined with organic farming methods ensure that only the highest of quality hemp makes its way into our products.
Once these healthy, all-natural hemp plants are harvested, our process of purity continues. Everything we produce is done in FDA registered facilities that follow GMP standards. What does that mean? Well for you, it means youre getting the highest quality product and we can prove it.Each batch we produce is lot-coded and tracked with a complete Certificate of Analysis (COA). We can tell you where the CBD came from and what ratio of cannabinoids and terpenes it has. We test every batch for CBD and THC potency, microbials, and heavy metals.
Extraction Type
When it comes to the CBD extraction process, we have you covered. Our extraction method uses solvent free Supercritical CO2 methods. You can trust NWC Naturals to deliver what you want, when you want it, to keep your natural health on track. We are Transparent. Know what you're getting; Product testing is always available and accurate. Each batch is recorded with
Lot Code Tracking
Complete COA
Produced to FDA Standards
And Tested for Quality
Most people when they hear hemp, automatically associate it with Marijuana. While both Marijuana and hemp originate from the same Cannabis Sativa L. plant, they vary greatly in their genetic makeup, usage, and cultivation. Marijuana is formulated to have large concentrations of tetrahydrocannabinol (THC) that leads to a psychoactive "high effect".
On the other hand, hemp's levels of THC is minuscule and does not have any mind-altering effects on you or your pet.
The Endocannabinoid System
Cannabinoid receptors, located throughout the body, are part of the Endocannabinoid System, which is involved in a variety of physiological processes including appetite, pain sensation, mood, memory, sleep, nervous system, stress response. By suppling the PCR in full spectrum hemp oil, the body is able to communicate better between all the body systems.*
Our Core-Hemp is a perfect supplement for both you and your pets.
Healthy Aging and Wellness- Wellbeing and overall health- Non-habit forming.
___________________________________________

*These statements have not been evaluated by the Food and Drug Administration. This product is not intended to diagnose, treat, cure, or prevent any disease.
Product ingredients
Our Hemp Supplement contains 100% full spectrum American grown and processed hemp oil. Also known as PCR oil. (Phyto Cannabinoid Rich)The bottle contains 500 drops supplying 500 milligrams of naturally occurring phytocannabinoids at a ratio of one full milligram per drop.

Directions
For dogs and cats give one drop for every ten pounds of body weight once or twice a day. To ensure consumption put the drops on a small treat.
Purchase Core-HempTM Professional Oil
Full Spectrum PCR Hemp Oil – Dietary Supplement
500 mg – 0.83 Fl. Oz.per
Original Price $115.00
$61.99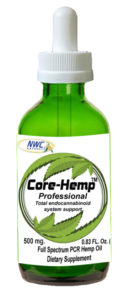 Note: Individual results will vary
Purchase Our Combo Pack
Core-HempTM Professional Oil
and Core-HempTM Topical Cream
Original Price $169.99
$99.99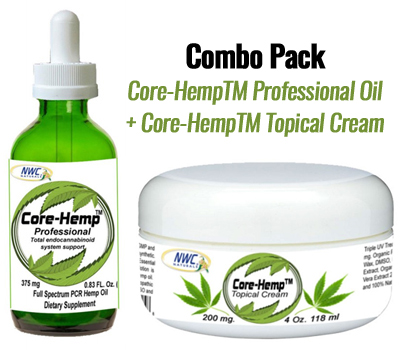 Note: Individual results will vary