Essential for supporting overall health and pain relief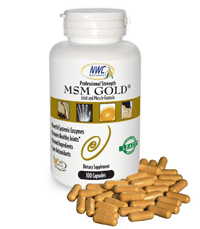 MSM (methylsulfonylmethane) is a pure and beneficial form of organic sulfur. It's not related to common sulphurs, sulphates or sulphites, which are irritants. Instead, MSM is a vital nutrient that all humans need for maintaining our body systems at normal levels.
But as we age, most of us become sulfur deficient. This deficiency is linked to chronic fatigue, skin conditions, low energy, psychological issues, depression, degenerative diseases, chronic pain, and more.
MSM is found naturally in many fresh fruits and vegetables. But quickly deteriorates after the plants are harvested. Making it worse, what little MSM survives is almost completely destroyed during food processing or cooking. This is why most people start showing signs of sulfur deficiency as they age.
MSM Gold® is a superior, highly absorbable form of MSM, and is essential for maintaining overall health and relieving chronic pain. See MSM Gold® benefits for more details.
Top 5 benefits
MSM improves skin, hair, and nail health
Aging skin, thinning hair and nails are all signs of collagen loss. MSM works together with Vitamin C to help build new collagen for plumper, radiant skin and healthier hair and nails. MSM also aids in keratin production. Higher collagen and keratin levels provide noticeably stronger and thicker hair and nails.
MSM improves flexibility and reduces muscle pain
Research shows MSM is more effective than chondroitin and glucosamine for improving joint and muscle flexibility while increasing the cushion around joints. Together, this significantly reduces pain associated with inflammation.
MSM increases detoxification and reduces free radical damage
When cells become damaged from a free radicals and nutrient deficiencies, they become rigid. Rigid cells prevent nutrients from flowing in and toxins from flowing out. MSM is shown to fight oxidation caused by free radicals. This makes cells more flexible and permeable, allowing proper nutrients and hydration to enter cells while flushing toxins out. With healthier cells, your overall body functions more optimally to maintain balance and efficiency.
MSM speeds up healing and reduces inflammation
MSM increases your body's ability to eliminate waste products at the cellular level. This includes the lactic acid that builds up from exercising, which causes soreness. Eliminating cellular waste greatly reduces inflammation and speeds up recovery times.
MSM reduces chronic pain
MSM helps relieve pain caused by inflammation and metabolic waste buildup. This includes:
Bursitis/Tendonitis
Overtraining
Carpal Tunnel Syndrome
Fibromyalgia
Localized sports injury (e.g. Tennis elbow, sprained ankle)
Lower back pain
Muscle aches
TMJ and TMD syndrome

Product Ingredients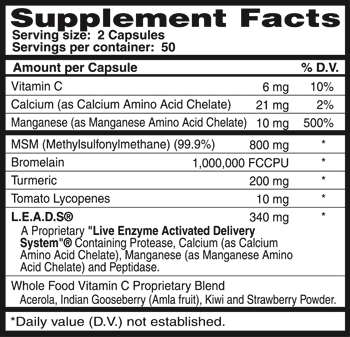 Unique, total body formula
In addition to pure, high-grade MSM, MSM Gold® includes superior antioxidants and systemic enzymes to provide powerful support for your whole brain and body.
Bromelain—reduces inflammation
Systemic enzymes—reduces inflammation and swelling in joints
Vitamin C—protects body by neutralizing free radicals
Acerola cherry—potent antioxidant supporting flexible connective tissue
Turmeric—fights free radical damage and improves mobility
Lycopenes—powerful antioxidants for neutralizing harmful free radicals
Calcium and manganese—aids in relaxing muscle, reducing joint pressure, and supporting bone and tissue health
MSM Gold® contains NWC's exclusive Live Enzyme Activated Delivery System® (L.E.A.D.S.®). This guarantees assimilation and utilization of nutrients at the cellular level. L.E.A.D.S.® is a proprietary system of select enzymes, botanical and whole-food products, and is formulated to match the specific needs of each NWC product.
MSM Gold® is guaranteed
Non-GMO
Made from all natural ingredients
Certified by NSF International
Meets all GMP dietary supplement requirements
Tested by third party lab for purity standards
Made in a USA facility
No known side effects
100% vegetarian
Purchase Immune Assist Now
MSM Gold®
Contains: 100 vegetarian capsules
$33.99