Technologically advanced immune support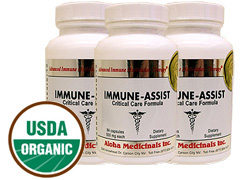 For centuries, Traditional Chinese Medicine used mushrooms to strengthen and regulate body functions, so it performs at optimum levels. Immune Assist contains a concentrated dose of pure immune- active heteropolysaccharides (het-er-o-poly-sak-car-ides) – derived from world's six most potent medicinal mushroom species.
These compounds provide some of the most potent anti-inflammatory and antioxidant properties found in nature. This helps your body effectively fight off the onslaught of free radical damage and inflammation caused by daily life.
To maximize your body's ability to absorb and utilize all of the nutrients in Immune Assist, we recommend combining Immune Assist with Transfer Factor® Plus Tri Factor from 4Life Research. While we make K9 Transfer Factors for dogs, 4Life Research makes a reliable formula for humans.
Fortify your body against illness
Adding another layer of immune support, this unique formula also contains a generous, purified dose of soluble 1,3-1,6 beta glucans. Beta-glucan is a fiber-like sugar compound derived from the cellular wall of yeast, oat, barley fiber, and certain medicinal mushrooms.
USDA organicNumerous studies show beta-glucans are very effective at activating white blood cells. This helps your body gently destroy viruses and damaged cells before they can cause you serious harm. Other studies show beta-glucans help regulate blood lipids, sugar levels and help maintain heart health.
Immune Assist contains a proprietary blend of over 200 immune system modulators to significantly support your overall health.

Unmatched Technology
To further enhance the beneficial effects of Immune Assist, this formula contains our proprietary Immune Assist Micron™. This advanced technology strengthens your immune system further by:
Providing 100% bioavailability (absorption rate) for better results – brewers yeast beta glucans average 5-10% bioavailability.
Activating ALL 260 different classes of immune cells – including natural killer cells, T-cells, and macrophages. Simple beta-glucans only activate a few.
Preventing any additional stress on the body while activating healing mechanisms.
Supporting regulatory functions and critical body systems including the nervous, hormonal, and immune systems.
Guaranteed safe, natural and effective
To maintain purity and potency, the medicinal mushrooms used in this formula are grown in a highly-regulated organic facility here in the U.S. Other supplements may contain medicinal mushrooms, but most are from overseas and likely to contain toxins and other dangerous pollutants.
Immune Assist is guaranteed pure and safe:
Made with 100% USDA Certified Organic materials
Manufactured in a FDA registered facility
100% non GMO
Made from Certified Kosher ingredients
Created according to the highest pharmaceutical standards
Absolutely no binders, fillers, flow enhancers or time release agents
Have no known side-effects
100% non-toxic (no risk of overdosing)
Backed by our full satisfaction guarantee
Recommended Daily Use:
3 to 6 capsules twice a day with meals. As with any supplement, please consult with your healthcare professional when pregnant or nursing.
Purchase Immune Assist Now
Immune Assist

Contains: 84 vegetarian capsules – 500mg each
$60.95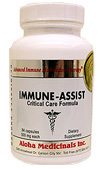 3 Bottles of Immune Assist

Buy 2 Immune Assist and get the 3rd one free
$121.90