Immune Assist Critical Care Formula™
Technologically advanced immune support
Immune Assist Critical Care Formula™ is the most potent immune enhancement supplement available. The six most potent immune supporting species of mushrooms used in this supplement are Cordyceps sinensis, Agaricus Blazei, Lentinula edodes, Grifola frondosa, Ganoderma lucidum, and Coriolus versicolor.
Benefits of Immune Assist Critical Care Formula™
Immune support
Supports heart and respiratory function
Helps maintain healthy energy and brain function
100% Certified Organic
100% Satisfaction Guarantee
More Information
These capsules contain pure immune-active heteropolysaccharides, including over 300 mg of soluble 1, 3-1, 6 Beta Glucans per capsule, as well as a full range of the high molecular weight immune-active heteropolysaccharides. These immune-active heteropolysaccharides and Beta Glucans are concentrated by more than 250 to 1 ratio and then purified into a pharmaceutical grade immune enhancing ingredient

Recommended Daily Use:
Dosage: 3-6 capsules two times per day
Immune-Assist Critical Care Formula™ is a safe and natural dietary supplement that combines six potent species of mushrooms in order to provide ultimate immune support.
Amount per Capsule – 600 mg. 90 capsules per container
Purchase Immune Assist Critical Care Formula™
1 Bottle
Immune-Assist Critical Care Formula™

90 capsules per container – 600mg each
Temporarily Out of Stock
$44.95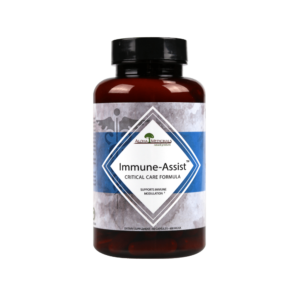 2 Bottles (save $2.91)
Immune Assist Critical Care Formula™

90 capsules per container – 600mg each
Temporarily Out of Stock
$86.99