Powerful 100% Natural Human-Grade Non-Toxic Apoptogens Direct From Nature
Apocaps CX Apoptogen Formula for Dogs
Apocaps®, the powerful nutraceutical supplement designed by Dr. Demian Dressler, DVM, author of The Dog Cancer Survival Guide is now available for dog lovers in stores, at vet offices, and online.
This is the same apoptogen formula supplement that Dr. Dressler developed for and uses with his canine patients at his veterinary hospital in Hawaii.  Apocaps® is made in the USA with 100% human-grade, all natural ingredients.
Apocaps is a giant leap in dog health innovation. Using pure, 100% human-grade, all-natural active ingredients, the patent-pending Apocaps CX formulation helps dogs by unlocking a natural biological process in the body called apoptosis.
Recommended uses
5-10 lbs: 1 capsule two times daily
10.1-20 lbs: 2 capsules two times daily
20.1-40 lbs: 3 capsules in the AM and 2 capsules in the PM
40.1-60 lbs: 3 capsules two times daily
60.1 lbs and over: 3 capsules three times daily
Administer orally with 1-2 tablespoons of food to reduce incidence of gastrointestinal upset.

Product Ingredients

Approved by and Recommended by Veterinarians
Powerful nutraceutical supplement supports the critical biological process of apoptosis in dogs.
High potency, 100% human-grade, all-natural active ingredients blended for enhanced bioavailability.
Designed by a renowned veterinarian for use in his canine patients at his veterinary hospital.
Small, easy-to-dose capsules which don't need to be split. 90 capsules per bottle.
Efficient, economical way to support apoptosis from Apocaps — the only genuine apoptosis pill.
For Veterinarians
With our roots in veterinary medicine, we greatly value the relationship and trust professionals build with their clients. That's why we deeply appreciate the interest and accolades we've earned from veterinary professionals around the world. If you would like to learn more about our formulations, there is a veterinary portal filled with video presentations and references on each of our products. We would love to see you there.
To get started, click the button below and fill out the form with your veterinary license. You can also always access the portal by using the link at the very top of this website. We know your time is valuable, so thank you for your interest.
Apocaps®
Contains 90 capsules
$59.99
Buy 3 & Save

Apocaps: Contains 90 capsules
K9 Immunity: Containes 84 capsules – 500mg each
$176.99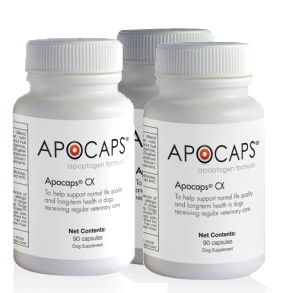 Apocaps® and K9 Medicinals® K9 Immunity™
Apocaps: Contains 90 capsules
K9 Medicinals® K9 Immunity™: Containes 84 capsules – 500mg each
$80.99
Temporarily Out of Stock