K9 Mobility Joint Care Supplement
Veterinarian Strength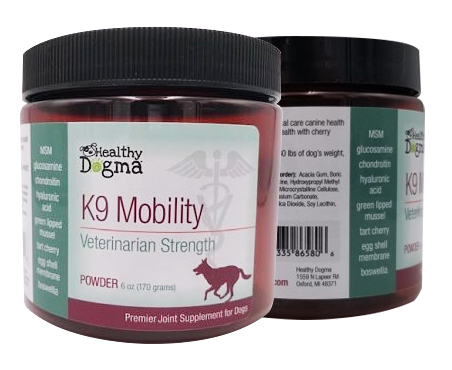 K9 Mobility is the first known natural pet supplement to combine Hyaluronic Acid with the other well known joint health products including, MSN (Methylsulfonylmethane), NEM (Natural Eggshell Membrane), Glucosamine, and Chondroitin.
K9 Mobility is specially blended with a tasty liver flavor that dogs love. It is a powder formula that is easily sprinkled and mixed into your dog's food.
Combining K9 Mobility with food encourages the optimal intake and absorption of this unique supplement.
Joint problems are not just for humans. The wear and tear on dogs' joints can also cause discomfort and limited flexibility.
Joints are made of a special connective tissue called cartilage. The collagen fibers in the cartilage of dogs' joints can suffer abuse from oxidative stress, poor diet, lack of exercise, and the wear and tear of walking on four limbs. As dogs age, the cumulative effect takes its toll on the joints and makes them stiffer, less flexible and sometimes painful. The viscosity of the joint fluid also breaks down as the dog grows older, becoming thinner and less able to cushion the joint cartilage. This leads to increased friction and wear on the cartilage surfaces of the joints, which can consequently interfere with comfortable joint function and optimal flexibility.
A combination of key vitamins, minerals and antioxidants from food and herbs can help maintain your dog's joint health.
K9 Mobility all-natural dog joint supplement contains:
MSM: MSM is an organic sulfur compound and the third largest nutrient found in the human body. Sulfur plays a critical role in improving joint flexibility, reducing pain, stiffness and swelling, and improving circulation.
Glucosamine: Glucosamine is a natural chemical compound found in the body that keeps cartilage in joints healthy. It also provides the building blocks to synthesize new cartilage.
Chondroitin: Chondroitin is a naturally occurring substance in connective tissues. Its anti-inflammatory properties and stimulation of HA synthesis help relieve pain, increase joint mobility, and decrease the need for painkillers.Hyaluronic Acid (HA): HA is a component of connective tissue thats helps to cushion and lubricate. HA can ease the flexing of joints by restoring cushioning and hydrating skin from the inside out. A natural pain reliever.
Green Lipped Sea Mussel: Known to support surrounding tissue and bones. Green lipped sea mussels contain anti-inflammatory properties from fatty Omega-3 acids. These fatty acids can assist in lubricating joints and reducing joint discomfort.
Tart Cherry Extract: Tart cherries reduce inflammation in joints while enhancing mobility and wellness. Research has also shown that tart cherries can lower blood cholesterol levels and can help to maintain a healthy weight, both of which are markers of inflammation.
Natural Eggshell Membrane (NEM): Eggshell membrane is a natural way to enhance dog joint health. Eggshell Membrane is a naturally harvested formulation comprised of key ingredients individually recognized as supporting healthy joints and connective tissues. NEM, is an innovative dietary supplement that contains naturally occurring polysaccharides and proteins essential for maintaining healthy cartilage and the surrounding synovial fluid.
Boswellic Acid: Boswellia is an Ayurvedic plant that contains triterpenoids called boswellic acids. Dried extracts of the resin of the Boswellia serrata tree have been used since antiquity in India
Suggested use:
1 scoop for dogs under 30 pounds, 2 scoops for dogs over 30 pounds or advised by your veterinarian. 
K9 Mobility Joint Care Supplement
Powder – 6 oz (170 grams)
$32.95