Increases your dog's chances for improvement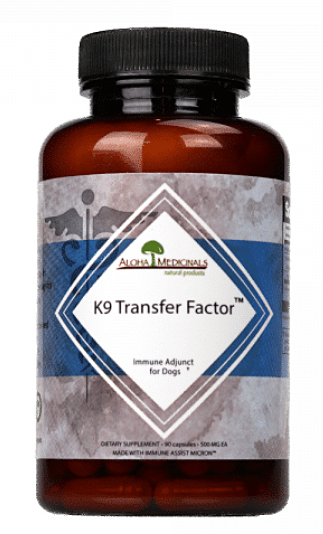 When your dog's health is compromised, he can't produce the number of transfer factors he needs. And without enough transfer factors, he can't create the antibodies he needs for stronger immune function. That's why we created K9 Transfer Factor™.
K9 Transfer Factor™ is designed to bond with the immune-modulating compounds in K9 Immunity™. By doing so, it increases absorption and bioavailability. This significantly enhances K9 Immunity's™ effectiveness. In turn, it supports your dog's chances for normal health and immune function.
For maximum effectiveness, K9 Transfer Factor™ also contains optimal levels of IP6 and SOD (superoxide dismutase) and are used to support the bodies antioxidant functions.
Dosage: 1-3 capsules per day
Benefits of K9 Transfer Factor™
Supports overall health and wellness
Helps to rebuild transfer factors and antibodies
Maintains a strong immune system
Please view our other TransFactor Plus 2.5 supplement.
TransFactor Plus 2.5 is a purified colostrum supplement that encourages a healthy immune system.
TransFactor Plus 2.5 can also be used in combination with
K9 Immunity™—activates ALL 260 different classes of immune cells
K9 Omega™—inhibits tumor growth and supports overall health during cancer treatment
Dosage
1 wafer per day. Each wafer contains 500 mg of colostrum. 30 wafers per bottle.
More Information
K9 Transfer Factor™ is a premier health supplement intended for dogs facing serious health threats. This supplement is used along with K9 Immunity™ to increase its bioavailability of transfer factors.
Amount per Capsule – 500 mg. 90 capsules
Safe For All Breeds and Sizes
100% Non GMO
100% Certified Organic
100% Satisfaction Guarantee
The World's Best Medicinal Mushroom Supplements – Guaranteed!
Aloha Medicinals Pure products are 100% American Grown Full Spectrum Mycoproducts, 100% Pure, Certified Organic Mushroom Supplements. All Pure Products are guaranteed to contain all the active ingredients found in that species of mushroom, and are guaranteed to be the most potent medicinal mushroom supplements on the market today.

Product Ingredients
K9 Transfer Factor™
Amount Per Capsule
Skim Colostrum
409 mg✝
✝ Daily Value Not Established
Other Ingredients: Chicken Liver Powder, Beef Liver Powder, Dextrose, Pork Peptones, Beef Peptones, Di-Calcium Phosphate, Stearic Acid, Magnesium Stearate, Gum Arabic, Silicon Dioxide
✝ These statements have not been evaluated by the FDA. This product is not intended to diagnose, treat, cure, or prevent any disease.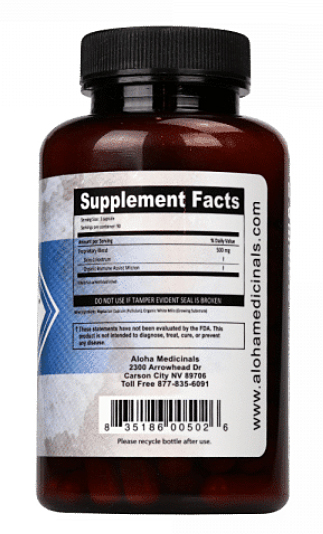 Recommended Daily Use
Dosage: 1-3 capsules per day
Serving Size 1 capsule
Servings per container – 90
Purchase K9 Transfer Factor™ Now
K9 Transfer Factor™
Contains 90 Capsules – 500 mg.
$24.95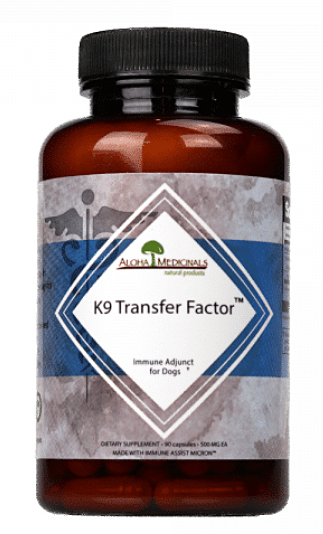 Buy 2 & Save

Contains 90 Capsules – 500 mg.
$41.99