Ultra-Pure MSM™ Powder for Pets
Ideal for maintaining overall health in older pets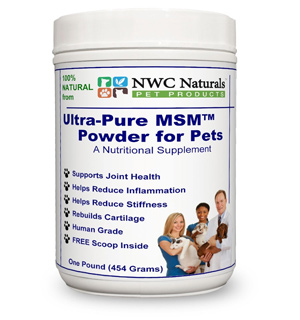 MSM (Methylsulfonylmethane) is a naturally- occurring sulfur compound found in every cell. Just like vitamins, MSM helps regulate body functions.
To optimize health and life expectancy, Ultra-Pure MSM™ increases cellular absorption of many key nutrients such as: vitamin C, Coenzyme Q10, all B vitamins, Vitamin A, D & E, amino acids, selenium, calcium, magnesium and many others.
Ultra-Pure MSM™ enables your pet to better synthesize collagen and destroy free radicals. This helps:
Reduce joint inflammation
Maintain healthy connective tissue
Improve flexibility/mobility
Promote cell regeneration
Reduce arthritic pain
Slow joint degeneration
Support healthy eyesight
Promote healthy skin and coat
Ultra-Pure MSM™ contains NWC's exclusive Live Enzyme Activated Delivery System® (L.E.A.D.S.®). This guarantees assimilation and utilization of nutrients at the cellular level. L.E.A.D.S.® is a proprietary system of select enzymes, botanical and whole-food products, and is formulated to match the specific needs of each NWC product.
Works on a cellular level, allowing joints to heal while relieving pain
For years, veterinarians widely recommend MSM for pets suffering from joint problems caused by age or injury, and to boost general health and athletic performance.
An average dog must regenerate thousands of cells every day. Each new cell requires MSM to remain flexible. This is important because when cells become rigid, problems develop with the lungs, joings, and other parts of the body.
Ultra-Pure MSM™ enters the body as dietary sulfur associated with the amino acids. Clinical tests show MSM prevents pressure from building up in cells. This allows nutrients to flow in and toxins to flow out.
MSM strengthens connective tissues and simultaneously insulates bones from friction and cushions joints in movement. Where aspirin only deadens nerve endings for pain relief, it does not heal damaged tissue. MSM increases blood circulation and removes inflammation. This permits muscles and joints to heal while significantly relieving pain.

Product Ingredients
Label Ingredients (pdf)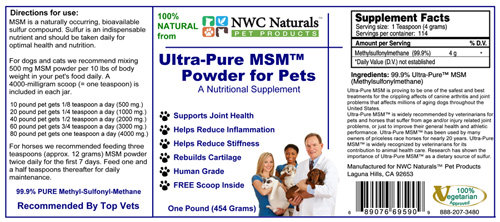 Is Ultra-Pure MSM™ right for my dog?
Ultra-Pure MSM™ for pets is guaranteed
Non-GMO
Made from all natural ingredients
Certified by NSF International
Meets all GMP dietary supplement requirements
Tested by third party lab for purity standards
Made in a USA facility
No known side effects
100% vegetarian
Ultra-Pure MSM™ for pets is allergen-free
No corn
No chemicals
No gluten
No soy
No dairy
No yeast
No wheat
No eggs
No preservatives
No artificial flavorings or coloring
Recommended Daily Use:
Each jar of Ultra-Pure MSM™ contains a 4,000 mg scoop, equaling one teaspoon. Each day, use a quarter scoop per 20 pounds of body weight.
10 pound pet = 1/8 teaspoon daily (500 mg)
20 pound pet = 1/4 teaspoon daily (1000 mg)
40 pound pet = 1/2 teaspoon daily (2000 mg)
60 pound pet = 3/4 teaspoon daily (3000 mg)
80 pound pet = 1 teaspoon daily (4000 mg)
Purchase Ultra-Pure MSM™ Powder for Pets Now
Ultra-Pure MSM™ Powder for Pets
Contains 1 pound jar
$33.99