Concentrated fish oil to support cell repair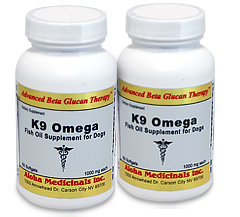 K9 Omega™ is a high quality fish oil supplement formulated specifically for dogs. It contains a highly concentrated blend of omega 3 fatty acids, it is guarantee free of the heavy metals and other debris commonly found in fish oil supplements.
For years, people gave their dogs fish oil to reduce allergy symptoms and to improve a dog's coat. Recent studies show supplementing your dog's diet with fish oil provides more far-reaching health benefits including:
Reducing inflammation
Lowering triglycerides
Supporting the cardiovascular health
Increasing lifespan of healthy cells
Supporting brain health
Supports optimum cell repair
How fish oil benefit dogs with cancer
Studies show diets including a balanced dose of pure fish oil may help prevent several human cancers such as breast cancer, colon cancer, and lung cancer. But fish oil isn't just a good preventative supplement, it's also helpful for those currently suffering from cancer
Slow tumor growth and spread
Several international studies show fish oil slows the rate tumors grow. [i] And it inhibits metastasis – the process of tumors spreading to other parts of the body.[ii] Both of these benefits could significantly improve your dog's response to cancer treatments.
Maintain body weight and muscle mass
Many times, cancer patients don't die from the cancer itself, but from the malnutrition and wasting away cancer causes. This is known as cachexia (ca-kek-see-a).
Researchers found when feeding a high fish oil diet to animals with cancer, the animals maintained more of their body weight. And it increased their muscle mass.[iii] As you can imagine, helping your dog maintain his body weight and muscle mass may increase his chance of surviving the dog cancer treatment.
Improve response to chemotherapy
Another study showed adding fish oil to the diet also helps chemotherapy patients respond better to the treatment. The researchers also found a high fish oil diet also protects animals against the toxins from chemotherapy drugs.[iv][v]
---
[i] Welsch, CW. Cancer Res., 52: 2040s-2048s, 1992.
[ii] Rose, DP, Connolly, JM, and Liu, XH. Diet and Breast Cancer (ed. American Institute for Cancer Research), pp83-91, Plenum Press, New York, 1994.
[iii] Tisdale, M and Dhesi, JK. Cancer Res., 50: 5022-5026, 1990.
[iv] Shao, Y, Pardini, L and Pardini, RS. Cancer Res., 54:6452-6457, 1994.
[v] Shao, Y, Pardini, L and Pardini, RS. Lipids, 30: 1035-1045, 1995.

Is K9 Omega™ right for my dog?
K9 Omega™ is safe for all dog breeds and has no known side effects. This formula is safe for dogs of all ages, pregnant dogs, and nursing dogs. As with any supplement, we suggest discussing the dosage with your veterinarian first.
Guaranteed safe, natural and effective:
Safe for all breeds and sizes
Safe to use with other cancer treatments
Made with 100% USDA Certified Organic materials
Manufactured in a FDA registered facility
100% non GMO
Created according to the highest pharmaceutical standards
Absolutely no binders, fillers, flow enhancers or time release agents
Have no known side-effects
100% non-toxic (no risk of overdosing)
Backed by our full satisfaction guarantee
Effects of Fish Oil on Dogs Health: Fish oils have long been suggested for dogs suffering from allergies, as they reduce irritation as well improve the condition of the coat. But the effects of fish oils on dogs' health are now being recognized as being far more widespread, with implications for other ailments such as heart disease, high cholesterol, kidney failure, arthritis and cancer.
Heart Disease: Many of the diseases dogs suffer are the same as those of humans, and heart disease is one of them. Dogs that are overweight, or do not get sufficient exercise, can experience the same heart conditions as people. And, just like humans, fish oils can help to ameliorate the condition Fish oils contain fatty acids, omega-3 and omega-6, and while both are beneficial, the omega-3s provide the main benefits. They reduce the triglycerides (the fats in blood), as well as lowering blood pressure and decreasing the rate of accumulation of arterial plaque.
High Cholesterol: Elevated cholesterol levels (hyperlipidermia) in dogs is caused by a build-up of fat in the bloodstream. Although this does not carry the same threat of heart disease as it does in humans, it can cause other health problems. The fats are produced naturally by the liver as part of the digestive system, but if too much fat is produced it will cause high cholesterol levels. According to a study carried out by the Faculty of Veterinary Medicine at the University of Uludag,in Turkey (and reported by "The Journal of Small Animal Practice" in March 2009), one possible indication of high cholesterol is a tendency for tail chasing–an obsessive compulsive disorder. Body fish oils have been shown to reduce triglycerides and cholesterol.
Renal Failure: Chronic kidney failure is another common problem in dogs, and it is often associated with cancer or heart disease. In some cases, the drugs used to treat those conditions have the undesirable side effect of undermining kidney function. The fatty acids from fish oil can slow the progression of kidney disease, and at the same time the oil's anti-inflammatory properties can reduce inflammation of the kidneys.
Arthritis: The omega fatty acid EPA (eicosapentaenoic acid) has anti-inflammatory properties that can reduce the pain and discomfort associated with arthritis, colitis and cystitis. In these cases, the relief certainly is beneficial, but fish oil does not actually treat the condition–although it may reduce the effect of the enzymes that damage cartilage in degenerative arthritis. A 2002 study by Dr. James K. Roush at Kansas State University's Veterinary Medical Teaching Hospital found that dogs suffering from osteoarthritis, who were given supplements with fatty acids, "felt better."
Cancer: Cancer is now the leading cause of death in dogs and often attributed to the commercially produced diets they are fed. Omega-3 fatty acids have been found to have beneficial results both in preventing and curing cancer.
Fish Oil Warning: The health supporting fish oil recommended here comes from the body oil of fish such as wild salmon, trout, tuna, sardines, menhaden and herring. We do not recommend using fish liver oil (e.g., cod liver oil). Because if a dog takes fish liver oil and is eating a typical commercial dog food, he risks overdosing on vitamins A and D, which can cause serious consequences.
Product Ingredients
This supplement was formulated from all cold water fish sources, using oil from salmon, anchovy, herring, sprat and sardines, with natural vitamin E to enhance freshness.
This product contains NO ingredients from China.
Recommended Daily Use
Each capsule contains 1000 mg of purified fish oil concentrate. These soft gel capsules can be fed directly as treats. Or they may be opened and the oil squeezed out on the dog's food. Dosage is one capsule daily per 20 pounds of body weight.
Other Studies
Omega-3 Fatty Acids in Boxer Dogs with Arrhythmogenic Right Ventricular Cardiomyopathy
Fish Oil and Chemotherapy: DHA omega-3 may improve chemotherapy outcomes: Study

By Stephen Daniells, 10-Feb-2010
Related topics: Omega-3, Research, Nutritional lipids and oils, Cancer risk reduction, Women's health
Supplements of the omega-3 fatty acid docosahexaenoic acid (DHA) may improve outcomes for breast cancer patients undergoing chemotherapy, says a new study from France.
A daily dose of 1.8 grams of DHA also produced no adverse effects, according to a new study published in the British Journal of Cancer.
"Our data show for the first time that a dietary intervention targeted on DHA is a feasible approach that has potential to substantially increase survival in metastatic breast cancer patients treated with chemotherapy," wrote the researchers, led by Dr Philippe Bougnoux from the French Institut National de la Santé Et de la Recherche Médicale (INSERM) U921 in Tours.
Being a phase II clinical trial, the research represents an "incentive to set up a prospective-controlled randomised trial aimed at identifying the place of dietary DHA in breast cancer treatments", added the researchers.
Every year about 1.3 million women are diagnosed with breast cancer around the world, with just fewer than half a million deaths associated with the disease, according to the American Cancer Society (ACS).
While the incidence of the disease has increased by about 30 per cent over the last 25 years in the west, death rates have declined dur to improved detection and tratments, said the ACS.
The new study, if supported by additional research, suggests that DHA may help improve survival by sensitising tumours to chemotherapy, said Dr Bougnoux and his co-workers.
Study details
The Tours-based researchers recruited 25 women with breast cancer to participate in their open-label single-arm phase II study. As part of their anthracycline-based chemotherapy (FEC) regimen women were given additional DHA (1.8 grams per day, DHA-enriched triglyceride oil of algal origin, supplied by Martek Biosciences) for between 2 and 96 months.
After an average of 31 months, Dr Bougnoux and his co-workers found that the overall survival of women was 22 months, and reached 34 months in women with the highest DHA levels in their blood.
"Although the median time to progression (6 months) and overall survival (22 months) in our study were within the frame of published data, it should be stressed that our patient population had a particularly poor prognosis, as 68 per cent had liver metastases in addition to other sites of metastases," stated the researchers. "The median overall survival of patients having liver metastases was reported to be 14 months."
Importantly the DHA supplements during chemotherapy were not associated with any adverse side effects, they added.
Source: British Journal of Cancer
Volume 101, Pages 1978–1985, doi:10.1038/sj.bjc.6605441
"Improving outcome of chemotherapy of metastatic breast cancer by docosahexaenoic acid: a phase II trial"
Authors: P. Bougnoux, N. Hajjaji, M.N. Ferrasson, B. Giraudeau, C. Couet, O. Le Floch
Buy 3 & Save
Contains 60 soft gels – 1000mg each
$44.85